Canopy Only without Subscription
$150


One-time purchase
Color
${selectedColor}

White

Blue

Green

Pink
Ships now Ships now Ships now Ships now
Limited Edition Vacation in a Box Aroma Kit
Canopy w/ Filter Subscription
$150
$125
Color
${selectedColor}

White

Blue

Green

Pink
Ships now Ships now Ships now Ships now
Limited Edition Vacation in a Box Aroma Kit
Ships every 45 days
Replacement Filter for $10 ($15 Value)
Most Popular
Canopy is a completely reimagined humidifier that promotes healthy, glowing skin and relieves symptoms of cold and flu without the hassles of traditional humidifiers. Designed with proprietary technology for clean, filtered moisture, Canopy is the always-on solution for the ultimate skincare and wellness routine.

Two options to subscribe and save. Learn more.

---
Hydrates rooms up to 500 square feet

Dishwasher safe
2.5 liter tank, up to 36 hours of running time
USB-C power cord included
Smart sensors maintain optimal moisture day and night

3lbs (1.5kg), 10in x 7in x 8.5in
---
Learn more about our limited edition The Sill Aroma Kit.

About Filter Delivery
The Canopy Anti-Microbrial filter catches bacteria, metals, and other particles in the water before it is evaporated into the air. Made from wood pulp, our filters are 2x more efficient at wicking and evaporating water than synthetic filters. Slight discoloration will appear shortly after use begins - this means the filter is working. Canopy's filter light will illuminate when it's time for a replacement.
Subscribe and save for convenient filter delivery.
Canopy w/ Filter Subscription
Filter replacement? Don't worry about it. Subscribe and save for filter delivery every 45 days.
Ships now

$150

$125

Canopy Humidifier
Filter
Aroma Sample Kit


*Aroma Kit contents will vary
Most Popular
Canopy w/ Filter + Aroma Subscription
Get easy filter delivery and never miss out on limited edition aromas. Receive a replacement filter plus a premium aroma kit every 45 days.
Ships now

$150

$125

Canopy Humidifier
Filter
Premium Aroma Kit
Ships Every 45 days

$55

$25

Replacement Filter for $10 ($15 value)
Premium Aroma Kit for $15 ($40 value)


*Aroma Kit contents will vary
Meet Canopy
Beauty and wellness starts with the air you breathe
Clean Moisture

No mist - just filtered, hydrated air

Anti-mold

Unique technology stops mold from growing

Nightstand Friendly

Small footprint fits with your life

Easy Clean

Parts are easy to handle and dishwasher safe
Canopy's Unique Technology
Canopy is the only anti-mold humidifier. Smart sensors know to continue running if there is any water left inside. No water left behind means mold can't grow.
Paper Based Filter

Stops contaminants in the water from entering your air

Embedded UV Lights

Kills 99.9% of bacteria, mold and viruses in the water

Auto Mode

Increased humidity at night when your skin needs it the most
Wake Up to Hydrated Skin
Canopy humidifier helps to improve skin health and combats
dryness
dullness
fine lines & wrinkles
Increased efficacy of topical skincare products 
Canopy in the Nursery
Canopy Humidifier is Pediatrician recommended for easy breathing and better sleep
Helps to alleviate symptoms of cold, flu, and allergies
Can help to significantly reduce the spread of airborne viruses
Clean Aroma Diffusion
Place the diffuser puck on top of Canopy and add fragrance oil
Enjoy as the scent evaporates into your environment
One of the best & easiest ways to keep skin healthy and looking its best is to use Canopy. This humidifier has been shown to help all skin types look and feel better.
---
Dr. Dendy Engelman, MD
Cosmetic Dermatologist
Essential for a great skincare routine
Effortlessly Hydrated Skin

Combat dryness, sensitivity, dullness, and fine lines & wrinkles

Healthy Skin Barrier

Protect from bacteria and pollution

Supercharge Your Skincare

Increased efficacy of topical products
Customer Reviews
Write a Review
Ask a Question
Filter Reviews:
humidifier
canopy
skin
water
mist
setting
difference
room
complaint
noise
07/15/2021
Amy

United States
I recommend this product
Love it!
Living in the desert an effective humidifier is key! This little adorable one definitely exceeded my expectations. I love how simple and compact it is (so easy to use) and the essential oil option is great for adding a subtle fragrance without mess or fuss. It's quiet and has multiple settings so you can select what works best for you. Overall …great! Will definitely be recommending.
07/03/2021
Amanda M.

United States
I recommend this product
Love it
I love it so far. I feel that I'm doing the best for my baby and I knowing there isn't too much moisture in the air and also mold. No one wants to do refills anymore, me included but if that's what we have to do, it's worth it. It's a plus that it just gets sent to you without having to think about it! Thank you!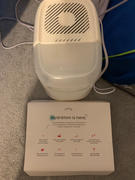 07/01/2021
Amy G.

United States
I recommend this product
Great product
Works as advertised - machine stays clean for a long time, no mist is much better for my home
06/29/2021
Amy

United States
I recommend this product
Maybe still in beta?
I love everything about this humidifier and subscription filter replacement service, seriously, it really is worth the kind of outrageous price tag. But I have to dock a star for the actual functionality of, specifically, the panel of buttons. My filter light came on when it was time to replace it the first time, and nothing I've done (following the instructions included with the filter, emailing with customer support, and even getting an entirely new unit—thanks to customer support—in case my original one had a faulty button) has successfully gotten it to turn off. I know roughly how often the filter needs to be changed, so it's not the biggest deal, but definitely a weird flaw to experience twice. In the same vein, as other users have experienced, my unit has to be fully unplugged in order for it to stay turned off after I press the "on/off" button to turn it off. If I leave it plugged in, it turns itself back on shortly after, even if the filter box isn't in its proper location! As in, it'll start running on its own even when I'm holding the filter box section upside down (no filter in it obviously) to make sure it doesn't need cleaning. Not good. It seems like maybe Canopy released their product before it was truly ready to go, which is a bummer, since I'm sure these notable glitches will eventually get sorted out, and I'll still be left with my glitchy unit. But aside from these issues, it does work great, so I'll put up with them for now.
06/25/2021
Sam C.

United States
I recommend this product
Wow. Seriously.
I've tried different humidifiers in the past only to be disappointed by some aspect of it, therefore after reading the reviews and deciding to try another humidifier I gave Canopy a try. The pink top is the one I chose. Followed the directions to set it all up (which took maybe two-three minutes), set it to "auto" mode as a first night trial of how well this machine would work compared to those of the past, and went to bed. When I woke up the next morning I could breathe clearly, my skin felt moist, and most importantly I felt well-rested for the first time in a very long time. It has been running smoothly for the past couple weeks now and both my hubby and I agree that Canopy is worth the investment. In auto-mode the noise level is lower than that of the desktop sized Holmes one that I had been using. If ambient noise does not bother you then you will enjoy this humidifier.