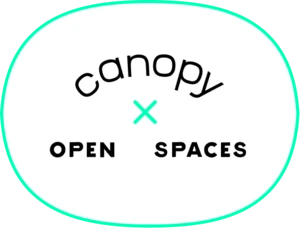 Canopy is a completely reimagined humidifier that optimizes the home for beauty and wellness. Open Spaces is a considered line of design-driven organization essentials. We've teamed up together to launch a collection of signature home fragrances for Canopy's built-in aroma diffuser.
As the current moment moves us indoors, every element of the home takes on a new importance. The Canopy X Open Spaces aroma collection is a call to be present with and enjoy the quality of air in our homes and celebrate the simple gift of being able to experience it.
Aromas in the Kit
Dawn
With Bergamot and Tea Blossom, inspired by fresh citrus and the rising sun, Dawn is best diffused while you ease into the rhythm of the day.

Midday
Blended with Sage and Cedarwood, Midday is inspired by strolls through the forest and best diffused when the sun is highest in the sky.

Dusk
Soft and soothing, Dusk is blended with Vanilla, Lime and Lavender and is best diffused as the sun is setting, all the way through to the morning.
How to Use
Place diffuser puck on Canopy's top grate.
Add essential oils and the scent will naturally evaporate into the air around you
Use between 2 and 5 drops depending on room size and desired potency
Kit can also be used on its own by placing the puck on your desired surface and adding oil
About filter delivery
Lorem ispum
Meet Canopy
Beauty and wellness start with the air you breathe
Clean Moisture

No mist - just filtered, hydrated air

Anti-mold

Unique technology stops mold from growing

Nightstand Friendly

Small footprint fits with your life

Easy Clean

Parts are easy to handle and dishwasher safe