Canopy X The Sill Aroma Kit
Canopy X The Sill Aroma Kit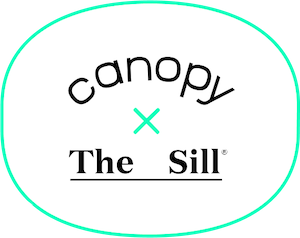 Canopy is a completely reimagined humidifier that provides optimal hydration for humans and house plants alike. The Sill helps connect people to plants and nature. We've teamed up to launch a collection of premium home fragrances for Canopy's built-in aroma diffuser.
This limited edition kit contains 3 premium home fragrance oils plus three ceramic diffusion pucks. Our oils are vegan & cruelty free and free from parabens and phthalates. 
Aromas in the Kit
Forest
Transparent Amber, Wild Jasmine, and Green Musk blend together in this rich, woodsy fragrance.

Greenhouse
Eucalyptus, Trailing Ivy, and Pear Blossom meld in this refreshing yet gently sweet aroma.

Flower Market
Notes of Blue Hydrangea, Hyacinth, and Pink Grapefruit combine in this smooth, sophisticated floral blend.
How to Use
Place the diffuser puck on Canopy's top grate.
Add 2-5 drops of oil to puck and the scent will naturally evaporate into the air around you.
Kit can also be used on its own by placing the puck on your desired surface and adding oil.
Includes:
3 5ml home fragrance oils, 3 ceramic diffusion pucks.
About filter delivery
Lorem ispum
Meet Canopy
Beauty and wellness start with the air you breathe
Clean Moisture

No mist - just filtered, hydrated air

Anti-mold

Unique technology stops mold from growing

Nightstand Friendly

Small footprint fits with your life

Easy Clean

Parts are easy to handle and dishwasher safe